Phillip Phillips was born in Albany, Georgia, on September 20, 1990. The only son in a family of music lovers and singers, he discovered the guitar when he was 14. He soon fell in love with playing and started obsessively practicing every day.
"When I first started playing music, I was 14 year old. I had this karaoke machine that I always had in the living room, I would just go there every day for hours.  I would put in tapes or CDs and just rewind and listen, trying to figure out each note on the guitar. I just kept pushing myself."
Although he started playing guitar very young, Phillips did not start singing in public until he was 18, when his older sister asked him to sing at church one Sunday. He had been playing guitar in his sister and brother in-law's band for a while but he was so nervous to sing in front of a crowd that he thought he was going to pass out.
Not only did he sing that day, but later formed the Phillip Phillips Band with his brothers-in-law Ben Neil (an accomplished guitar player and the one to first inspire him to start playing) and Todd Urick on the percussion. His sister would also accompany them on vocals. They made a name for themselves in town, and the practice helped Phillips become more assured as a singer. After high school, Phillips enrolled at Albany Technical College to complete an industrial systems technology degree. He kept himself busy, working at his family's pawn shop and playing several shows a week.
When the American Idol auditions were held in Savannah, Georgia in the summer of 2011, Phillips decided to go, encouraged by his family and friends. Although he admitted he really had not watched the show a lot before, that
audition turned out to be the move that changed his life.
Phillips considers himself a guitar player first and a singer second, but it was both his guitar skills as well as his warm, soulful voice, that helped him stand out in the competition. Despite the show's emphasis on commercial appeal and pop likability, it was Phillips' unique and inventive covers and rocker/singer-songwriter sensibility that captured the audience's ears and imagination and eventually led him to win the American Idol title. It was also his steely determination that allowed him to stay in the competition, as he battled painful kidney stones throughout the entire run of the show.
On the night of the finale, Phillips performed his coronation song "Home," which debuted in the Top 10 of the Top 100 charts, the first Idol winner coronation song to debut that high in four years. "Home" later became the hit of the summer when it was used as the theme song for the US women's gymnastics team at the 2012 London Olympics. Phillips was invited to perform "Home" at various major national events, including the White House 4th of July Celebration. In October, with "Home" still riding high on the charts, Phillips was invited to sing the National Anthem on game one of the World Series. His intimate, low-key interpretation wowed the crowd.
Phillips' post-Idol career soared thanks to the incredible success of "Home" but he was eager to show the world his own original music. He was finally able to do just that when he released The World From The Side Of The Moon on November 19, 2012. The album featured the multi-platinum selling "Home" but also a collection of songs all written or co-written by Phillips. Those who had witnessed Phillips' rise through the show and afterwards were not surprised at his success, but were rewarded by finally being able to get a taste of Phillips' songwriting and lyrics. The songs co-written by Phillips, but specially the tracks where he had solo writing credits,  revealed intricate, musically ambitious guitar playing and a deep and introspective view of the world.
The World From The Side Of The Moon garnered wide acclaim for its eclectic combination of funky rock numbers, folksy anthems and darker, moodier songs that showed Phillips' talent as a story teller. This critical and commercial success, along with the release of its second single, "Gone, Gone, Gone"  helped The World From The Side Of The Moon to be certified platinum in August 2013.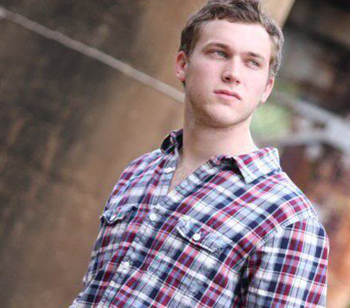 Despite enjoying his time in the studio, Phillips declares that his passion lies in playing live, and he has been touring and performing almost nonstop ever since his album came out. After playing numerous acoustic shows in support of his album in the fall of 2012, Phillips got a chance to perform for new audiences when he was invited to be the opening act for Matchbox Twenty during their 2013 winter tour and then, in the summer, to join John Mayer on his Born and Raised tour.  In between the two, Phillips embarked on his own solo college tour, playing for sold-out crowds almost every night.
Phillips' passion for playing live is evident to anybody attending his shows. Together with his band he has had the chance to create powerful live versions of his songs and covers, using the studio tracks as a springboard for extended jams and improvisations that enhance and enrich the stories he tells in the studio. In fact, this was Phillips' intention when recording The World From The Side of The Moon:
"I didn't want to overproduce anything. I wanted to keep it the way I could do it live and have fun and have some solos in there and everything. I wanted to keep it as raw as possible."
Earning consistently excellent reviews for his high-energy set during the tour, Phillips has been gaining new fans everywhere he goes. As an opening act for John Mayer, he had the chance to play for hugely enthusiastic crowds in Buenos Aires, Argentina and Sao Paulo, Brazil.  The tour's next stop was

at Rock in Rio 2013, one of the largest rock festivals in the world. Playing in front of a crowd of over 80,000 people and accompanied by his excellent band, his set highlighted everything that has come to represent his musical style:  highly skillful guitar playing, soulful, passionate vocals, and an incredible rapport with the musicians in his band that result in ever evolving extended grooves and jams.
In celebration of the one year anniversary of the release of The World From The Side Of The Moon Phillips released a three-song Live EP which was recorded during his tour in support of John Mayer. This Live EP, as well as the video for Where We Came From, the third single from his album, continue to showcase Phillips' love for performing live and capture the high energy and incredible musicianship that have come to define his live shows.
Throughout,  Phillips has stayed true to himself, focusing on the music and on becoming an even better musician and songwriter. It seems to all come down to his humble approach to life and to music: "I love music so much, it's very therapeutic for me. And to be able to do this for a living is just a blessing."